Bali is a beach lover's dream, but what if you're an Indiana Jones type who needs more than a patch of soft creamy sand and a book?
We Solo are delighted to bring you a selection of the best outdoor activities in Bali for adrenaline junkies.
BEST OUTDOOR ACTIVITIES IN BALI
Hike Mount Batur at sunrise
Mount Batur is an active volcano that travellers climb early in the morning so they can watch the sunrise over beautiful Bali.
It's a good idea to book a trekking tour as it's a serious undertaking. Some set off climbing from the village of Kintamani and take around two hours to reach the summit. Watch dawn break and the magical shades of purple, red and gold creep over the island.
Some tours include an overnight on the mountain to watch the sunset, marvel at the stars and catch the sun rising through the door of a cosy tent. Epic!
Popular Mt Batur Tours: Sunrise Hike +Natural Hot Spring | 2-Day Sunset + Sunrise Camping
Surfing at Kuta Beach
Surfing off the Bali coast is an incredible way to spend a day. However, staying on the board is not the easiest thing in the world!
Happily, surfing lessons are available for people of all levels. The coaches are knowledgeable, patient, and fun. By the end of my afternoon on Kuta Beach, my body hurt but my face ached from smiling and laughing.
During each two-hour class, you'll learn how to be safe in the sea, which waves to aim for, how to operate a surfboard, paddling skills, and how to stand up.
Popular Bali Surfing Tours: Surf &Yoga Retreat in Nusa Lembongant | 2 hour Surf Lesson in  Canguu
White-water Rafting in Ayung River
The Ayung River is the longest and widest in Bali and, with all three grades of rapids to ride in one stretch, it is the ideal location for an adrenaline-pumping day of white-water rafting.
Rafting on Ayung River is pure exhilaration. In the safe hands of a guide, your boat team will negotiate challenging underwater rocks, pass by dramatic waterfalls and under towering river cliffs.
The scenery is breathtaking. The trip starts in green fields under Abang mountain, takes you through the jungle and by beautiful stone statues, and ends on the Tegalalang rice terraces.
A rafting experience here often includes the chance to soar on the famous Bali jungle rope swing and an Indonesian buffet lunch.
Popular Bali Ayung River Rafting Tours: Rafting & Jungle Swing | Rafting + Bali-style Lunch
Explore the dive sites of Bali
Scuba diving in Bali is world-class. Dives are varied and exciting and there's the opportunity to gain a qualification such as PADI Open Water Diver from excellent instructors in some of the most beautiful seas on the planet.
You can embrace the underwater world as a beginner in Tulamben Bay. On the white sand, you will go through safety, the basics of diving and how to remain calm when deep under the surface.
Novice divers are privileged in Bali. Not far from the shore at Tulamben, and within the capabilities of a beginner, is the wreck of the USAT Liberty.
This US warship is covered in colourful coral that is home to hundreds of fish species and she is one of the top 15 dive sites in the world.
Other magnificent diving locations include Alamanda Reef, the Rugged Wall and Kubu Reef.
Popular Tours in Tulamben Bay: Beginner's Dive Experience | PADI Open Water Diving Course | USAT Liberty Wreck Dive
Hot air balloon ride over Bali
Your hot air balloon experience will be a thrilling ride over Ubud, rice paddies and tropical jungle. The flight will ascend to 50 metres and from your wicker basket seat, you'll see Mount Agung looming majestically on the horizon.
The memories of the jaw-dropping 360-degree views will remain with you long after you return home.
A We Solo team tip?! Don't forget to take your camera, but don't drop it!!
Popular Bali Hot Air Balloon Tour: Ubud Private Flight
Waterfall trekking and canyoning
One of the We Solo team's favourite outdoor activities are waterfall trekking and canyoning. It's a fantastic and fun way to push your limits while enjoying a different perspective of the river.
The finest waterfall trek starts from Sambangan, a village surrounded by tropical plantations of cocoa, lemongrass and clove.
Your scramble up-river takes you to the Blue Lagoon and Secret Garden, natural swimming pools surrounded by caverns. Next are Aling Aling and Kroya waterfalls where the brave can jump in or try out the 12-metre rock slide. Jumps of 10 metres into the crystalline water of the Twin Waterfalls will have your heart racing and then the 15-metre leap of faith at Pucuk Waterfall is only for the true adventurers!
An alternative tour will introduce the intrepid traveller to rural Bali, a part of the island not often visited by tourists.
You will travel through the central mountain range, past vegetable farms and up into an alpine landscape. The goal is Banyumala Waterfall after a humid but gorgeous walk through the rainforest.
Popular Bali Waterfall Tours: Sambangan Village with Waterfall Sliding | Gitgit and Alingaling Waterfalls | Banyumala Waterfalls Trek
Paragliding at Uluwatu
For adventures in love with the idea of flight, paragliding is the ultimate thrill.
Most trips into the Bali skies will begin on Nyang Nyang beach where, after a safety briefing and kit check, you and an instructor will run along the sand until you're both lifted into the clouds by tropical thermals.
The flight is completely controlled by your experienced instructor, so you're free to chill out and feast your unbelieving eyes on the views.
Depending on the thermals, each flight takes around 15 minutes during which you'll glide over Uluwatu, the Pura Luhur Sea Temple, secret beaches and coral reefs.
Popular Bali Paragliding Tours: Tandem Paragliding in Uluwatu
Cycling in Bali's countryside
Cycling is a fun and efficient way to explore a new country. Just pop on a helmet, settle yourself in the saddle and pedal away through miles of the new and fascinating landscape. On Bali, there are two 'must-do' cycle tours.
The Mountain Batur trail takes two hours and includes challenging uphill tracks that lead to the crater rim for a close look at volcanic geography in Batur UNESCO Global Geopark.
A longer but flatter option is a ride into the lush countryside of Bali. You'll pass through an imposing bamboo forest, green rice fields, friendly villages and ancient local temples.
Unless you're very confident at navigating new terrain, it's a good idea to book a tour. Most will include a picnic lunch or optional extra such as rafting or kayaking.
Popular Bali Cycling Tours: Black Lava Cycling Tour + Natural Hot Spring | Full Day Cycling + Rafting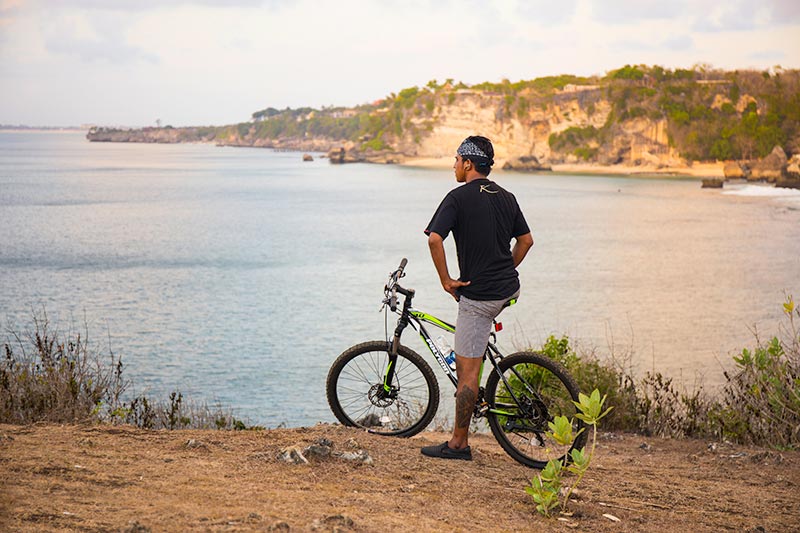 Kayaking on Lake Batur
The azure blue waters of Lake Batur, the lake biggest in Bali, are cradled by a huge volcanic crater and overlooked by their namesake mountain.
It's a serene place and a journey around the lake by kayak is the perfect way to appreciate the peace and beauty around you.
The local fishermen are super-friendly and enjoy chatting to tourists paddling by on their little boats. They will point out the best spots for a cooling swim and where the therapeutic geothermal pools can be found.
Popular Bali Kayaking Tours: Kayaking Lake Batur + Natural Hot Spring
PLAN YOUR PERFECT BALI TRIP
Book ahead for your Bali trip
Disclaimer: Our article contains affiliate links. If you make a purchase after clicking one of these links, we earn a small commission at no extra cost to you. It helps us to keep bringing you awesome content, trips, and partnerships!