For the environmentally conscious traveller, staying in eco hostels and discovering green accommodation options is an essential part of their trip. Happily, in Thailand, communities are keen to protect the beauty and diversity of their country, so there are many choices. If you're planning a visit to Bangkok, and are looking for friendly, affordable and clean accommodation in great locations, here are the best eco-friendly hostels in Bangkok
5 Eco-friendly Hostels in Bangkok
The Yard Bangkok Hostel
The Yard Bangkok Hostel in Ari is adored by travellers who love the home-away-from-home feel. The staff at the 24-hour reception are super-friendly, there's a beautiful garden, and the lounge and kitchen are cosy and perfect for socialising. There's even a bar.
If you're looking for an affordable hostel in a great location, The Yard Bangkok is excellent. It's close to a well-stocked supermarket, a local market and fantastic restaurants selling traditional and international cuisine. In addition, it's only 21 miles from Suvarnabhumi Airport and a short walk from the Ari BTS Skytrain Station.
Guests choose a luxurious private loft room with a waterfall shower and pretty garden view, a comfortable private room with a double bed or twin bunks or a curtained bunk bed in a mixed dorm room. Each option has air conditioning, safe places to store your valuables and access to a clean and spacious shared bathroom.
The atmosphere at The Yard is relaxed and welcoming. There's free Wi-Fi in communal areas, the breakfast is tasty and staying here will fit the budget of most tourists.
> Find the latest deals at The Yard Bangkok Hostel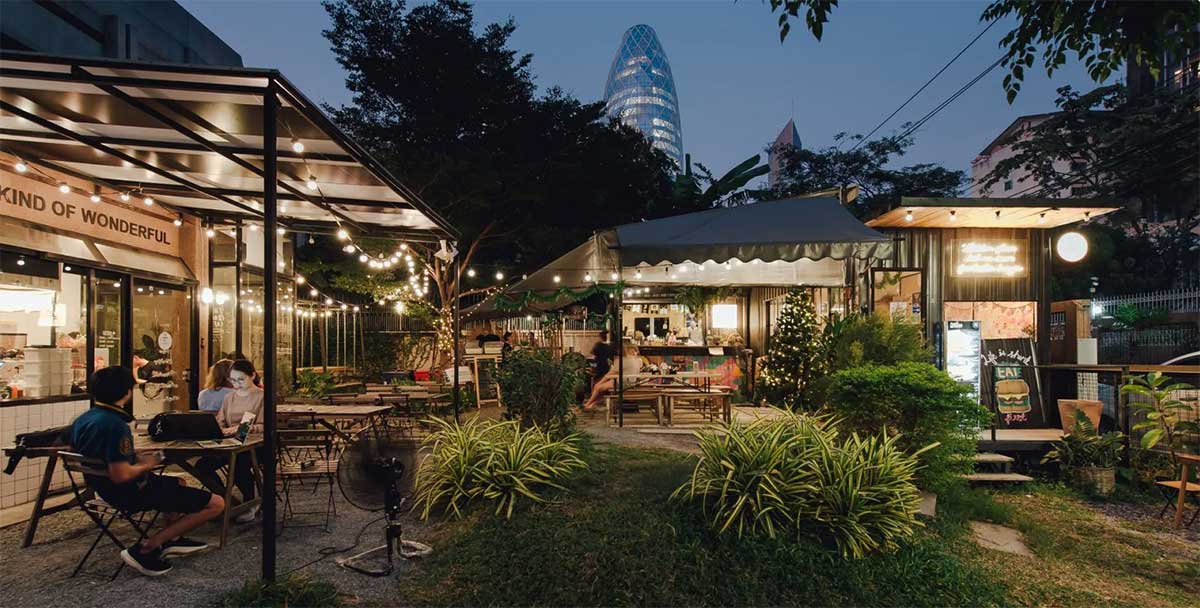 Siam Eco Hostel
The Siam Eco Hostel is bright and spacious, just a few short steps away from a BTS Skytrain stop, so it's an excellent base for exploring this incredible city. It's also only 14 miles from Don Mueang International Airport and close to big malls, small local stores, and fantastic street food stalls and restaurants.
Staying at The Siam Eco Hostel, you'll feel at the centre of the action; the fascinating and busy city you'll see out of the dormitory and hall windows will keep you entertained for hours. The communal areas in the hostel are clean and modern; there's free Wi-fi and a friendly snack bar where you can meet new friends.
The dormitories are well-equipped (bed linen is included) and have comfortable bunk beds, secure lockers and individual charging points. Bathrooms are shared, but they are cleaned and maintained regularly and have hairdryers.
The staff at the Siam Eco Hostel are friendly and will go above and beyond to make sure you enjoy your stay in their city. If you need advice about public transport, where to eat or have a problem with your room, they'll be delighted to help.
If you need breakfast to fuel your day of sightseeing, the hostel offers a simple but tasty continental or buffet breakfast. You feel safe staying here too; the staff are vigilant, they pay attention to each guest so they would notice a stranger, and the doors have security codes.
> Find the latest deals at The Siam Eco Hostel
Sleep Box Sukhumvit 22
Sleep Box Sukhumvit 22 is a funky-looking hostel with bright red sleep pods stacked on each other. The 4-bed rooms are spacious, and they have their own bathroom. Each bunk feels private and self-contained, with charging points and storage nooks.
The shared living spaces include a well-equipped, clean and modern kitchen, a retro-styled lounge area and a bright dining area decorated with a fantastic city mural. There's wi-fi throughout the hostel, free drinking water (brilliant on stifling hot days) and a complimentary small but tasty breakfast,
Sleep Box Sukhumvit 22 has friendly coffee shops, well-stocked shops and the Phrom Phomg BTS station all close by. Suvarnabhumi International Airport is a 40-minute taxi ride away, and just a couple of stops on the Skytrain will take you to EM District, where the large shopping malls are located.
The staff are great too. They are welcoming, efficient, and rightly proud of their cleverly designed hostel.
> Find the latest deals at Sleep Box Sukhumvit 22
Diff Hostel 
The Diff Hostel is a short walk from two BTS Skytrain stations, Phyathai and Ratchathewi, so it's an excellent base for the rest of this extraordinary city. It is also conveniently close to Jim Thompson House, Pantip Plaza and the Bangkok Art and Culture Centre. We recommend exploring the friendly neighbourhood that lies just behind the hostel. You'll find stalls selling delicious street food and welcoming locals and restaurants.
The cleanliness of the Diff Hostel is exceptional. Rooms are cleaned and tidied daily, and the mostly minimalist black and white décor always looks pristine. There are some splashes of colour in the communal areas and the small, smart garden area.
Guests can use the large TV, hairdryers, modern kitchen equipment, and complimentary toiletries. The breakfast is excellent too, it's a simple yet filling meal of omelette and fruit, and the staff who serve it are friendly. The Diff Hostel is relatively small, but it feels cosy, and the brilliant, central yet quiet location makes up for this shortcoming.
You can choose from spotless shared rooms with private bunk spaces with individual lights, charging points and storage, or comfortable separate rooms for singles or couples.
> Find the latest deals at Diff Hostel 
Jam Hostel Bangkok
The Jam Hostel Bangkok is an oasis of calm situated conveniently close to the Khao San Road, Wat Saket, The Grand Palace and Don Mueang Airport. It is beautifully decorated with glossy blonde woods and relaxing neutral tones. Some of the private rooms even have terraces over the river.
If you're feeling social, there's a friendly rooftop bar, restaurant, cosy lounge and a pretty garden to chill out in. Travellers craving peace and quiet will love the option of booking a private single room. There are also single-sex bunks with private bathrooms, storage space and comfy, spacious beds.
The staff are welcoming and super helpful; even if you arrive early after a late flight, they will greet you with a smile. The hostel team also organises fantastic days out and experiences to ensure you get the most out of your visit to Bangkok. There's wakeboarding on a Wednesday, cultural exchange experiences, meditation at Wat Arun and regular free walking tours.
> Find the latest deals at Jam Hostel Bangkok
HOW TO PLAN THE BEST BANGKOK TRIP
Handy links for your Bangkok trip
Disclaimer: Our article contains affiliate links. If you make a purchase after clicking one of these links, we earn a small commission at no extra cost to you. It helps us to keep bringing you awesome content, trips, and partnerships!