Manila is the vibrant capital of the Philippines and is a wonderful feast for the senses. Chaos, culture, high fashion and stunning street food make Manila a metropolis like no other. Explore the fabulous must-visit places in Manila.
Must-Visit Places in Manila
Take a tour of Intramuros
Intramuros, a grid system of narrow streets bordered by thick walls, is the oldest part of Manila dating back to the 16th century when Manila was the centre of the Spanish East Indies.
The Spanish era lasted until 1898 and left beautiful colonial buildings, churches and ornate palaces.
Intarmuros has a quirky vibe as a piece of antique Europe amidst a sea of ultra-modern skyscrapers.
Exploring on foot makes a fantastic day out as does a tour by motored trike or horse and carriage.
San Augustin Church & Museum
San Augustin Church was built in the 16th century and, as the earliest stone church in the Philippines, is now a cherished UNESCO World Heritage site.
Its style is flamboyant baroque, and the interior is a jaw-dropping mix of intricate decorative mouldings and trompe l'oilel art. More highlights include a 15th-century crucifix and the elaborate 17th-century church stalls.
Cas Manila museum tells the story of Catholicism and Colonialism in Manila and was once a monastery. Inside, visitors will find a huge range of paintings, statues, and religious iconography.
Ayala Museum
The Ayala Museum is in Makati, the financial centre of Manila. It is dedicated to the art, ethnology and archaeology of the Philippines.
Tourists can view six exhibitions and galleries featuring traditional sea vessels, exquisite silks, porcelain and 19th-century paintings by artists such as Juan Luna.
We were stunned by the remarkable collection of pre-colonial Filipino gold artefacts and the clever Diorama experience which explains the entire history of the Philippines.
> SUGGESTED READ: 7 AMAZING THINGS TO DO ON CEBU ISLAND
Visit Manila American Cemetary
The American Cemetery is the biggest outside of the US and many families of the 17,000 fallen come to visit this sombre place.
The cemetery is the final resting place of those who died fighting in the Pacific area during WW2 and other military campaigns.
The extensive map room and visitor's centre house sobering exhibits telling the story of the brutal conditions and experiences endured.
The chapel is beautifully designed with a sculpture of St George defeating the dragon and a shimmering blue glass mosaic of the Madonna.
Touchingly, there is also a limestone edifice engraved with the names of the soldiers who were lost but whose bodies were not found.
Fort Santiago
The Fort was the military base of the 15th-century Spanish rulers. The first stones were laid in 1571 and they stood firm until the WW2 Battle for Manila damaged much of the structure. It has since been restored and is a wonderful place to visit for history lovers.
The main gate is a magnificent structure with a carving of a Spanish patron saint and the country's coat of arms.
Jose Rizal, the father of the movement for independence was imprisoned in the fort prior to his execution. You can see his cell and the shrine honouring his place in the hearts of grateful Filipinos.

Greenbelt Mall
Greenbelt Mall is vast! It is a shopper's paradise but, be warned, you are very likely to get lost within the never-ending maze of high-end stores.
This shopping destination from heaven is in Makati. Inside, designers such as Gucci and YSL sell from elegant stores and there are plenty of fabulous places to enjoy delicious food and drink.
Greenbelt Park is next to the mall and is a serene oasis of calm in a bustling city. Chill out on benches next to fishponds teaming with wildlife or wander through the colourful flower displays, lush greenery, and pretty statues.
> SUGGESTED READ: 7 AMAZING THINGS TO DO ON BOHOL ISLAND
Manila Chinatown
This Chinatown was the first in the world when it was established in 1594. Step into the busy streets to find chatty food vendors offering delicacies such as steamed dumplings and Chinese cakes filled with savoury sweet mung bean paste.
You can shop for almost anything here! The stalls and stores are packed full of the practical and ridiculous and it's a thrill to search for treasure.
Modern Filipino, colonial Spanish, and ancient Chinese cultures are intermingled in Chinatown to create a corner of the city that is truly exhilarating.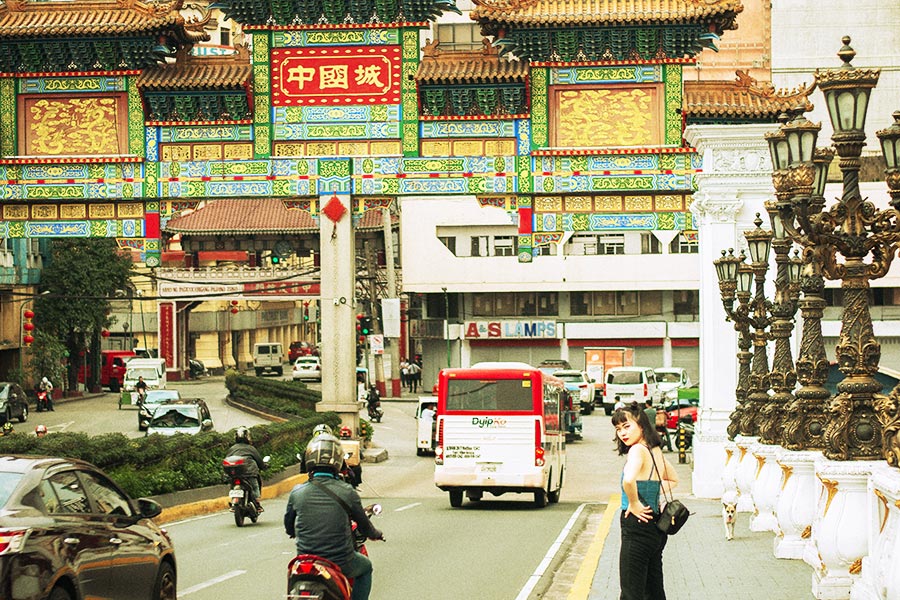 Take a ride in a Jeepney
The Jeepney, vintage buses decorated in bold colours and styles, are the quintessential way to travel in the Philippines. It's the most common form of public transport but can be confusing for tourists.
Grab an official map and plan your route. Each jeepney will have its route emblazoned on the windshield or side and can be caught at a stop or, if you're brave, flagging one down.
Tips for successful travels include – don't sit next to the driver if you don't fancy passing fares and change back and forth, be prepared to be squished, be polite at all times and shout 'Para Po!' if you want to get off.
PLAN YOUR PERFECT MANILA TRIP
Book ahead for your Manila trip
Book tours in Manila
Disclaimer: Our article contains affiliate links. If you make a purchase after clicking one of these links, we earn a small commission at no extra cost to you. It helps us to keep bringing you awesome content, trips, and partnerships!