Coron is a tiny collection of tropical islands tucked away in a beautiful but secluded area of the Philippines.
There is nowhere in the world like this stunning part of the Calamian archipelago, you'll love spending time exploring all our favourite reasons to visit Coron.
Reasons to visit Coron Island
Swimming in the Twin Lagoon
The dramatic natural geography of Coron has created many lagoons which lie hidden away from anyone who doesn't know the secret.
The Twin Lagoons are a breath-taking sight as they contain all the shimmering shades of blue you can imagine.
Freshwater from the island blends with salty seawater in the lagoons. This unusual mix makes the feeling of swimming in them is wonderfully strange.
The two pools are separated by a limestone edifice. You can scramble over the maze of rocks and crevasses or brave a short underwater swim through a submerged cavern.
Explore Kayangan Lake
Kayangan Lake is unbelievably clear, and this incredible location is possibly one of the most beautiful places in Asia, if not the world.
There's a viewpoint nearby from which to take photos that will 'Wow!!' your friends and family. Head there a little before noon, before the sun is overhead, to enjoy the best views and images.
Tours of Kayangan Lake arrive frequently so it can get busy! Arriving early is a good idea if you want a few peaceful moments to yourself.
Bamboo rafts are available to hire, but be aware that the authorities are strict about conservation so there are sometimes restrictions in place to protect the fragile environment.
Relax at Maquinit Hot Spring
The Maquinit Springs, where the temperature of the saltwater is balmy and muscle soothing 101 degrees Fahrenheit, is the ideal location to chill out and re-charge after a busy trip discovering the delights of Coron.
The two spring pools are large enough not to feel too busy and you'll be shaded from the sun by a forest of lush mangrove trees.
We recommend a trip to these serene springs at sunset. It will be an evening you'll never forget, and the short taxi hop back into town means there will be enough time to end your night with a cold beer.
> SUGGESTED READ: 7 TOP THINGS TO DO ON CEBU ISLAND
Walk up Tapyas Hill
Coron is undeniably picturesque, a new source of wonder seems to be around every corner. For a panoramic view of these extraordinary islands hike to the top of Mount Tapyas.
Travellers who don't consider themselves mountaineers can take heart though. Tapyas is more of a large hill than a daunting peak as you ascend via steep steps carved into the terrain.
Your strenuous effort will be rewarded with a vista that will take your breath away. Plan a soak in the Maquinit Springs post-trek to combat any aches and pains.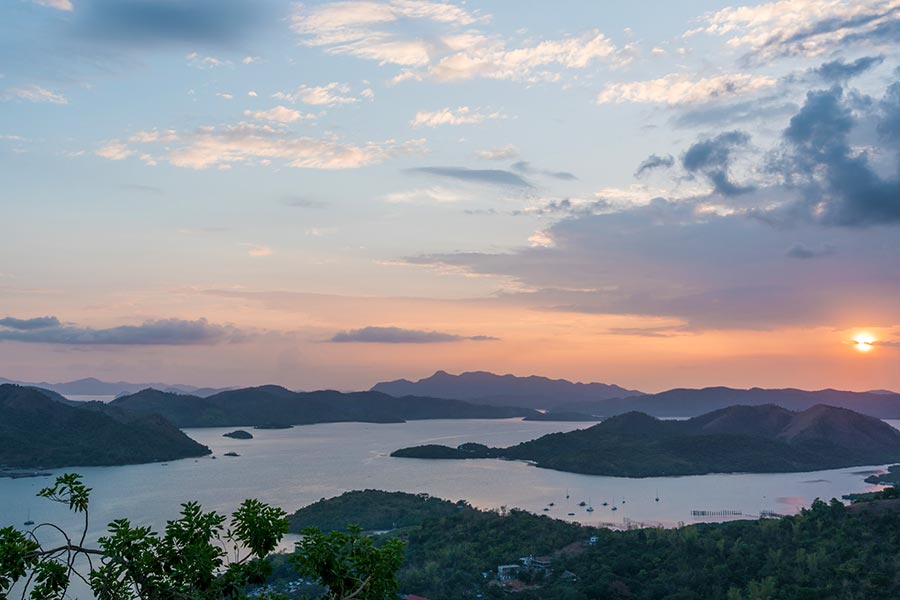 Experience paradise at Bulog Dos Island
Bulog Dos Island is a 90-minute boat ride away from Coron. The ride over the ocean is filled with the caress of salty sea spray and gazing into the sapphire depths.
Stepping onto the creamy sand of the long, curved beach at Bulog Dos is like entering an Instagram filter. Simply amazing!
The sea is crystalline aquamarine and perfect for snorkelling. A few minutes from the shore, past the fringe of seagrass, you'll find an underwater spectacle of brightly coloured coral and friendly, inquisitive fish.
Unusual rock formations make Bulog Dos unique in comparison to the other islands close to Coron. They are fun to scramble on and are great sources of shade in the midday heat.
> SUGGESTED READS: 7 AMAZING THINGS TO DO ON BOHOL ISLAND
Wreck diving in Coron Bay
One of the most enthralling aspects of a visit to Coron is the WW2 Japanese warships laying at the bottom of the Pacific. There are twelve of them and they are all remarkably well preserved and at a depth that is ideal for scuba diving.
One of the wrecks, a Lusong Gunboat, is so close to the sea surface that it is possible to snorkel to it. Happily, after over 70 years, the ship has been embraced by nature and is the home to coral, sea fans and marine life. A fantastic experience especially for those who are nervous about the sea.
BOOK WRECK DIVING IN CORON REEFS
Snorkel underwater mountains in Barracuda Lake
Barracuda Lake is another awesome body of water in which to snorkel. You'll experience swimming over underwater mountains and the slightly unnerving sensation of thermoclines where the temperature of the water suddenly changes dramatically.
The crowds tend to gather at Kayangan Lake which leaves Barracuda a calmer, quieter place to enjoy exploring the glass-clear water and its interesting underwater landscape.
PLAN YOUR TRIP TO VISIT CORON
Book ahead for your Coron trip
Book a tour of Coron Island
Disclaimer: Our article contains affiliate links. If you make a purchase after clicking one of these links, we earn a small commission at no extra cost to you. It helps us to keep bringing you awesome content, trips, and partnerships!