Mallorca is the biggest and most densely populated of all the Balearics. Explore Mallorca Island with us to find out how amazing and varied this wonderful island is.
The weather is sunny and warm throughout the year so tourists flock here in their millions. Most come for the golden beaches, but Mallorca has so much more to offer than sun, sea, and sand.
EXPLORE MALLORCA ISLAND 
Explore Palma Old Town
Palma's Old Town is a labyrinth of ancient churches, elegant town squares, cobbled alleyways and grand palaces.
On a hot summer day wandering around this shady part of town is the perfect way to escape the heat and soak up some Spanish culture.
It's possible to book a guided tour but I preferred to simply go where my feet took me. For me, that's the way to explore Mallorca and my tactics didn't disappoint as I happily stumbled across a local bakery and nibbled treats while people-watching on a cosy bench.
> Beller Castle in Palma Old Town
Beller Castle is a 14th-century castle that sits atop a lush green hill. It was once a home for the Royal Family but has, in its long history, been a sanctuary from the plague and even a prison.
Beller is one of the few castles in Europe that has a circular shape, so architects find it fascinating and classical musicians love the acoustics it produces.
The path up to the castle, through the pine forest, is a lovely walk which local families enjoy on a weekend. There's even a great little café on the castle's viewing platform. They serve an excellent tortilla, ice-cold beer, and strong black coffee.
> Royal Palace of La Almudaina
This stunning royal palace has had many incarnations. It was originally Roman but when the Arabs ruled the area it was transformed into a Moorish-style castle whose job it was to defend the strategic importance of Mallorca.
In 1281 it became a residence for Spanish and Mallorcan nobles, it's still used for ceremonies by the Spanish Royal Family today.
Visitors can enjoy panoramic views of Palma, a collection of beautiful tapestries, and a piece of work named 'Egg' by iconic Spanish artist Joan Miro.
> Palma Cathedral
The dream of Palma Cathedral belonged to King James I of Aragorn. He was aboard a stricken ship near Mallorca and promised that, if he survived, he would dedicate a church on the island to the Virgin Mary.
The first foundation stone wasn't laid until after his death many years later and it took four centuries to complete.
Gaudi added his work to the Cathedral in the 20th century and that sealed its reputation as being a masterpiece of design and engineering as well as a place for peaceful worship.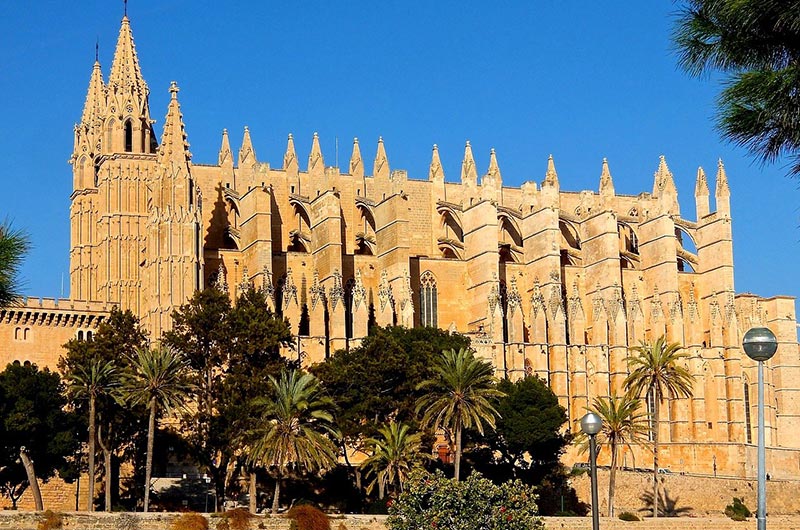 Enjoy the coastline of Cap De Formentor
Cap de Formentor is a gorgeous piece of rugged coastline at the place where the Sierra de Tramuntana mountains plunge into the Mediterranean Sea.
If you hire a car to make the journey, be prepared for a hair-raising route along narrow, crumbling, and windswept roads.
There are many viewpoints that will delight any lover of natural beauty, but it's the clifftop lighthouse, Faro de Formentor that touches the soul.
Seek out Mirador Es Colomer too. It's a breath-taking spot high on dramatic cliffs with views of Minorca, Alcudia, and Cala Fiquera. Be careful though! The wind is brutal and can sweep the unwary into the sea below.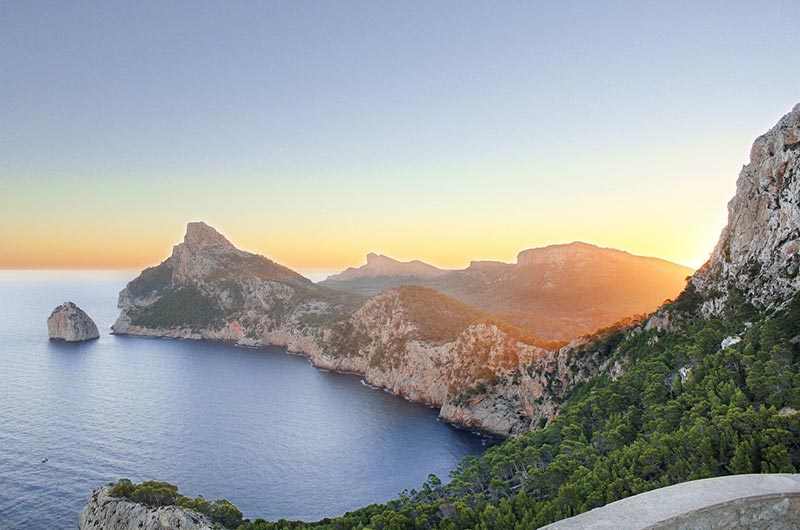 > RELATED ARTICLE: 6 BEAUTIFUL THINGS TO SEE IN BARCELONA
Visit the mountain village of Valldemossa
Valldemossa is a lovely village nestled into a valley in the Tramuntana mountains. It's an oasis of serenity that is much loved by hiking enthusiastic hikers and cyclists.
Lush green forests and neat fields skirt the village while high, dark mountains loom in the background. The houses are so pretty! Flowers tumble from window boxes and hanging baskets.
Valldemossa is a living, breathing work of art where the worry and stress of the modern world can be forgotten for an afternoon of tranquillity.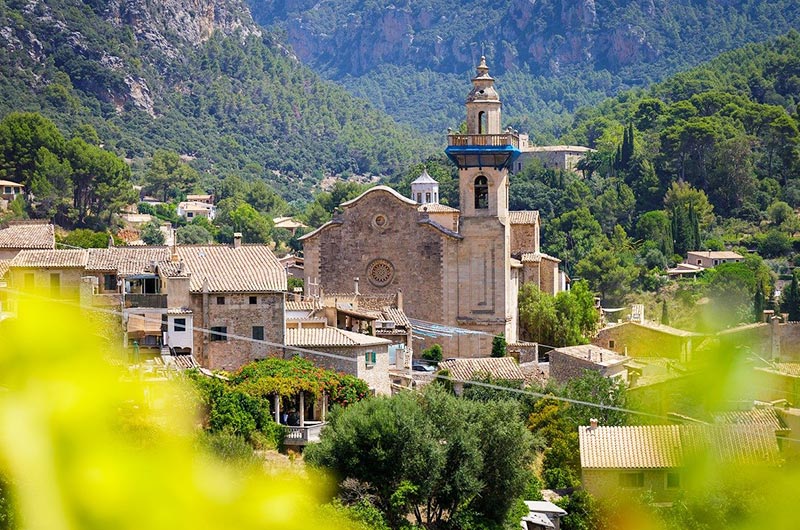 Discover the Drach Caves
Drach Caves are an underground wonderland. Caving is like entering a totally alien world, so I'd highly recommend hiring a guide or joining a tour.
Stalactites dangle provocatively from the ceiling ready to be walked into or to cheekily plonk a drip of water onto your head and make you jump! Stalagmites rise from the cave's floor and create strange statuesque shapes as they grow.
The lake that laps at the edge of the Drach Caves are one of the biggest underground bodies of water in the world. The spooky lighting really sets the imagination to work. Who knows what mysterious creatures are lurking in the murky depths?!
The best bits of this slightly unnerving experience? A concerto of classical music and a cruise across the deep, dark water in a tiny wooden boat.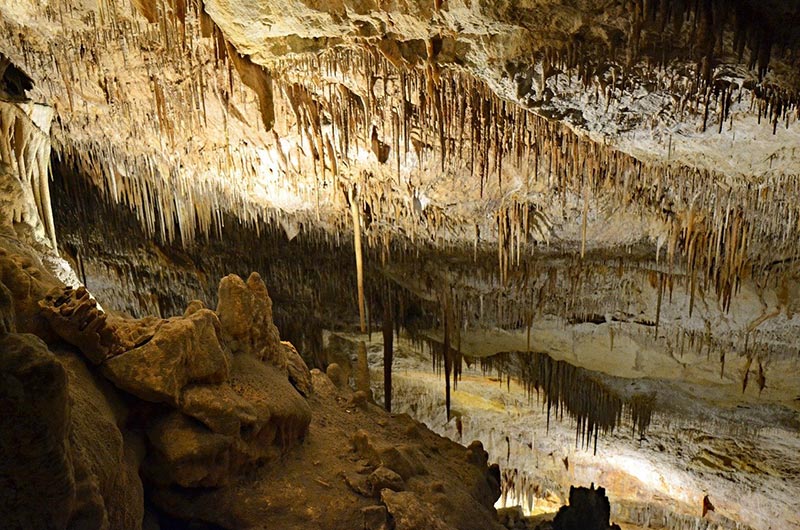 Be adventurous in Mallorca
Mallorca's north coast is dramatically edged by the mountains of the Serra de Tramuntana, a range that runs for over 56 miles and boasts many summits over half a mile high.
UNESCO has given this gorgeous area of protected status. It's now a World Heritage Site with cultural, environmental, and historical significance. There are plenty of opportunities to enjoy hiking, bouldering, and Alpine-style climbing here.
If you prefer exploring marine life, you will not be disappointed. You can spot large shoals of fish, endangered species, and beautiful underwater flora and fauna. Find the best conditions for scuba diving on the southwest and east of the island with magical caves and wrecks. Enjoy your diving adventures!
HOW TO PLAN THE BEST MALLORCA TRIP
Plan ahead for your Mallorca trip
Book a tour in Mallorca
Disclaimer: Our article contains affiliate links. If you make a purchase after clicking one of these links, we earn a small commission at no extra cost to you. It helps us to keep bringing you awesome content, trips, and partnerships!