Gdańsk is a fabulous town in Northern Poland and well worth a visit. Read on to discover some of the top things to see in Gdańsk.
Most of the buildings that you will find in Old Town were reconstructed after WWII and contain late Gothic, Baroque, and Dutch architectural designs. If you have visited parts of Southern German or Dutch towns you might see many similarities. 
BEST THINGS TO SEE IN GDANSK
Long Market
You really cannot avoid the Long Market (Długi Targ) in Gdańsk. The stunning elongated square is located between the end of Long Lane (Ulica Długa, Langgasse) and Green Gate (Brama Zielona, Koggentor). Filled with shops and restaurants, it is the heart of Gdańsk and home to many historical buildings such as Hewel House, Curicke House, Uphagen House – to name a few. Long Market is home to some highly recognisable buildings including the Town Hall and Neptune's Fountain.
Neptune's Fountain
Neptune's Fountain is a bronze statue of the Roman God of the sea and is the centrepiece of Dlugi Targ (the Long Market). First erected in 1549, Neptune's Fountain was made into a fountain in 1633. During WWII, the structure was dismantled and was resurrected in 1954 when it was restored to its former glory. Neptune's Fountain is a must-see in Gdańsk!
> RELATED ARTICLE: 6 CHARMING THINGS TO DO IN WROCLAW
Town Hall of Gdańsk
Dating back to the 14th century and home to the Gdańsk History Museum, the Town Hall is a stunning piece of architecture with a majestic spire located on Long Street. It is fantastic to explore for history-lovers especially as you can climb to the top of the Bell Tower for a small fee.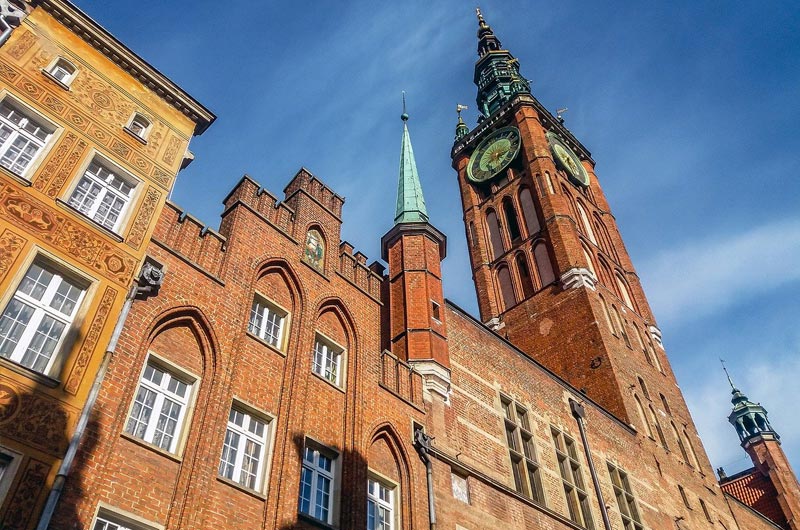 National Maritime Museum
Established in January 1962, the National Maritime Museum in Gdańsk holds a fabulous collection of artifacts and documents relating to all things maritime from shipbuilding, navigation, fishery, sailing, and military science. A visit here will give you a wonderful insight into the economy of Poland and the history of Poland.
Crooked House
Gdańsk is home to some crazy architecture without a doubt. One of the Crooked House which was built in Sopot at Bohaterow Monte Cassino Street and houses restaurants, shops, and a radio station. The Surrealist structure was designed by the architects Szotynski and Zaleski, inspired by the drawings of Jan Marcin Szancer and Per Dahlberg. 
> RELATED ARTICLE: EXPLORE KRAKOW | CATHEDRALS & WAWEL CASTLE
Malbork Royal Castle
Are you ready for a day trip from Gdańsk? Top of the list is Malbork Castle as it is situated less than an hour away on the east bank of the River Nogat and is a breath-taking UNESCO World Heritage Site. Take some sturdy walking shoes as it is the largest castle in the world measured by land area measuring around 143,591 square metres.
Malbork Castle, also called the Castle of the Teutonic Order in Malbork, dates back to the 13th century. This castle was built by the Teutonic Knights, German Roman-Catholic crusaders. The castle has been owned by German and Polish over the years and unfortunately more than half of the structure was destroyed in WWII. Thankfully, Malbork Castle became part of Poland again after the war and underwent a major restoration.
HOW TO PLAN THE BEST GDAŃSK TRIP
Plan ahead for your Gdańsk trip
Book your tours in Gdańsk
Disclaimer: Our article contains affiliate links. If you make a purchase after clicking one of these links, we earn a small commission at no extra cost to you. It helps us to keep bringing you awesome content, trips, and partnerships!