Da Nang is a vibrant city on the coast of central Vietnam. It's a fantastic place with a rich and often tragic history and a hopeful, energetic future.
There are many fascinating things to do in Da Nang, from exploring the Marble Mountains and learning about traditional Vietnamese cuisine to relaxing on the ivory sands of My Khe beach and snorkelling in the warm, turquoise water.
BEST THINGS TO DO IN DA NANG
Marble Mountains
The Marble Mountains are a stunning range of limestone and marble peaks that dominate the landscape above the coast road between Da Nang and Hoi An. They are hills rather than mountains, but they rise dramatically from sea level and feature intricate carvings of Buddha and lions on their marble faces.
Named after the five elements, the Marble Mountains were sacred to the Cham people and have been a spiritual destination for Vietnamese people for generations. Shrines and temples are carved into the high crags and caves of these imposing natural wonders.
Of the five mountains, only Mt Thuy (water) is accessible to tourists. Its slopes and summit offer panoramic views, a Buddhist pagoda with an enormous Lady Buddha statue, and the Am Phuc cave, where there's a unique representation of heaven and hell.
>> BOOK A TOUR OF THE MARBLE MOUNTAINS & SON TRA PENINSULA
Take a city tour of Da Nang
To truly understand the city of Da Nang, a tour in the company of a knowledgeable guide is a must. There are plenty of well-organised tours with highlights that include the magic of the Marble Mountains, Linh Ung Pagoda, a beautiful temple next to the ocean, and the impressive Cham Museum.
Alternatively, you can choose your itinerary. Choose to gaze upon the artistry of the Dragon Bridge, go souvenir shopping in the Han Market, and at the end of a hectic day, take in the sights and sounds of Da Nang, head to My Khe beach to chill out, and enjoy a cocktail and a snack in the early evening sun.
Most tours include hotel pick-up and drop-off, air-conditioned coach travel, and an English-speaking guide.
>> BOOK HALF-DAY OR FULL-DAY DA NANG CITY TOURS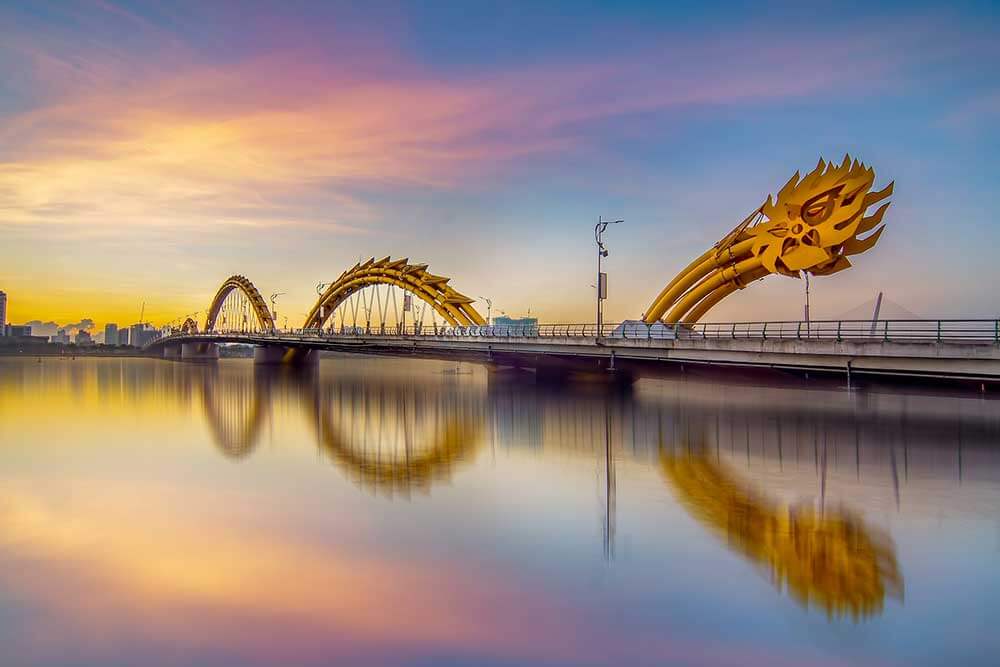 Visit the Ba Na Hills
The Ba Na Hills are a popular part of the city for locals and tourists alike. It's a magical landscape that is often shrouded in mist. Take an adrenaline-inducing cable car ride to the highest point of the hills and be inspired by the gorgeous views of Da Nang city and the ocean stretching towards the horizon.
The Golden Bridge is a magnificent example of art, architecture, and engineering working together; the huge stone walkway appears to be held in the air by a pair of giant hands. If you're feeling fit, take a hike to the summit of Chua Mountain and enjoy the panorama. On the way back down, stop at the extraordinary Linh Ung Pagoda and the peaceful Linh Chua Linh Tu Temple.
The Ba Na Hills are also home to vast cellars where the French distilled alcohol during their rule. Tours of this underground world are available, and it's an excellent place to learn about the history of Da Nang's colonial period.
>> BOOK TO VISIT GOLDEN BRIDGE AND BA NA HILLS 
> SUGGESTED READ: AMAZING THINGS TO SEE IN PHNOM PENH
Go snorkelling on Cham Island
The Cham Islands are 15km off the coast of Da Nang. There are eight small granite islands in the archipelago, and the largest, Han Lao, was settled by the Cham people over 3000 years ago.
To reach this tropical paradise, head to Cua Dai Wharf and hop on a speed boat for an exhilarating 20-minute ride. Cham Island is a UNESCO Biosphere Reserve, and Hon Nhon Beach is ideal for snorkelling and swimming. The sea life is varied and colourful, and the water is calm and warm.
When you're hungry, ask to moor the boat at Bai Chong Beach. There you'll find some delightful restaurants serving delicious fresh seafood. After an indulgent lunch, wiggle your toes in the icing sugar-like sand and lounge in a hammock to soak up the sun.
>> BOOK A SNORKELLING TOUR ON CHAM ISLAND
Experience the Hai Van Pass
The Hai Van Pass is a magnificent mountain road with spectacular views of Da Nang and the Son Tra Peninsula. The safest way to experience this stunning part of the Vietnamese coast is on an organised tour.
The journey to and from the Hai Van Pass features many fascinating sights and sounds. You'll pass ornate temples, colourful burial grounds, and mind-clearing open countryside. The Hill 55 Sniper Training School is also nearby, and those interested in the history of the Vietnam War will want to stop there.
The road out of Da Nang follows the Cam Le River, past the friendly and photogenic fishermen at Lang Co Lagoon. You'll then work your way up toward the highest mountains in this part of Vietnam. One of them, Monkey Mountain, has roads that are an incredible 700m above sea level, and there's a high chance of meeting a Langur, a rare breed of monkey.
Relax on My Khe Beach
My Khe Beach is idyllic. The 9km curve of soft white sand is edged with swaying coconut palms and the sea is warm, calm and a beautiful blue. After a few days of exploring the Da Nang region, My Khe is a gorgeous place to unwind.
At one end of the beach, the tranquil sands are guarded by a giant statue of a female Buddha. In the opposite direction, the vibe is more energetic, and you'll find luxurious hotels, seafood restaurants, and bars.
Once you've had your fill of sunbathing, reading, and gentle swims, head to one of the excellent surf schools operating off My Khe beach. The surfing here is safe for beginners as the seabed is rock free, and the instructors are experienced, patient and fun.
>> LEARN TO SURF ON MY KHE BEACH
Take a Vietnamese culinary tour
Tasting new foods is a great joy of travel, and Vietnam has one of the most interesting and tastiest cuisines. The chefs, street food vendors, and cooks of Da Nang are rightly proud of the delicious foods they produce, and there are plenty of opportunities to get stuck in.
Culinary tours are a fantastic way to experience Vietnamese food culture, and many start with a seafood dinner. Da Nang is on the coast, so the fish is ultra-fresh and prepared in mouth-watering ways, from highly fragrant with lots of heat, to simple and elegant.
Night-time food tours will include a leisurely cruise across the Han river to the local night market, the opportunity to see the iconic Dragon Bridge spitting fire, and a taste of authentic Vietnamese night-time culture.
Vietnamese Home Cooking Experiences are fun and informative. You'll visit the market, learn how to shop like a local, and enjoy a coffee. The cosy home of a chef is your next stop. She will teach you how to make your own rice milk and demonstrate the traditional dishes you can make with it. Then it's your turn to cook! Lunch will be one of the creations you have skilfully created.
A walking food tour is another superb option. You'll visit restaurants, street food stalls, and a housewife's living room. Savoury pancakes, barbecue, seafood, spicy pizza, and banh mi sandwiches will all be on the menu.
HOW TO PLAN THE BEST DA NANG TRIP
Handy links for your Da Nang trip
Disclaimer: Our article contains affiliate links. If you make a purchase after clicking one of these links, we earn a small commission at no extra cost to you. It helps us to keep bringing you awesome content, trips, and partnerships!