Bangkok is a spectacular city with a unique atmosphere that travellers have long adored. Unfortunately, it's also vast, and the roads are intimidating, so travelling by foot or car aren't practical options. So, bike tours in Bangkok are becoming an increasingly popular and affordable mode of transport and exploration.
Fun Bike Tours in Bangkok
Explore the real Bangkok by bike
One of the greatest joys of travel is exploring the parts of a country that most tourists don't see, so a bike tour of the real, authentic Bangkok is a must. Most tours of this type take around three hours, so they're great if you're pushed for time or want to discover fascinating places you can enjoy at your leisure later in the trip.
On a well-maintained bicycle, your knowledgeable guide will lead you through the cramped and bustling alleyways of Chinatown, into the thrum of local markets and over the Chao Phraya River into the peaceful residential area of Thon Buri. You'll also see the smaller Buddhist temples where the locals worship, celebrate and mourn.
The Thai people appreciate curiosity beyond the 'Instagrammable' parts of their city, and you'll be greeted with friendly smiles and shouted greetings. You won't miss out on Bangkok's main attractions; you'll have great views of them as you cycle by.
>> Book your Bike Tour of Bangkok
Bangkok Food Tour by bike 
Tasting delicious new foods is one of our favourite aspects of travel, and in Bangkok, you'll be stunned and delighted by the variety of dishes there are to try. Exploring all the foodie hotspots is more accessible by bike; you can zip in and out of the busy streets and tuck into something tasty at every stop.
Most bike tours can be booked for just you and a companion or as part of a group. You'll spend half a day eating traditional Thai meals and snacks in the places the locals love. There will also be visits to the atmospheric markets of Wang Lang and Talat Phu, the sources of the broad range of ingredients you're eating.
As you whizz through the city on your iron steed, you'll pass by the jaw-dropping green stupa, and Bangkok's tallest Buddha statue at the Wat Hong Rattanaram Temple and have time to absorb the cultural exhibits at the Artist's House.
>> Book your Bangkok Food Tour by Bike
Jungle Bike Adventure in Bangkok
Bang Krachao is a haven of greenery that sits in the Chao Praya River in the middle of Bangkok. It's a man-made oasis that is rarely accessed by visitors to the city and was originally built to be a rest stop for the crews of the cargo boats sailing down the river.
This unique island is often referred to as the 'Green Lung of Bangkok' as the dense jungle of trees, Sri Nakhon Khuean Khan Park, helps mitigate the city's air pollution. On the edge of Bang Krachao, you can see thousands of mangrove trees, and in the secret centre, there's the Bangkok and eco-friendly resort that's perfect for an overnight stay away from the city's noise.
For environmental reasons and ease of access, a bike is the best mode of transport for exploring Bang Krachao, and there's a reasonably priced hire shop on the island pier. Once fully kitted out, set off to explore the craft, food and flower market and taste Meing Kum, a traditional Thai dessert of mango, lime and sweet fish sauce, at a beautiful eatery called Reuan Fresh Milk.
>> Book your Jungle Bike Adventure in Bangkok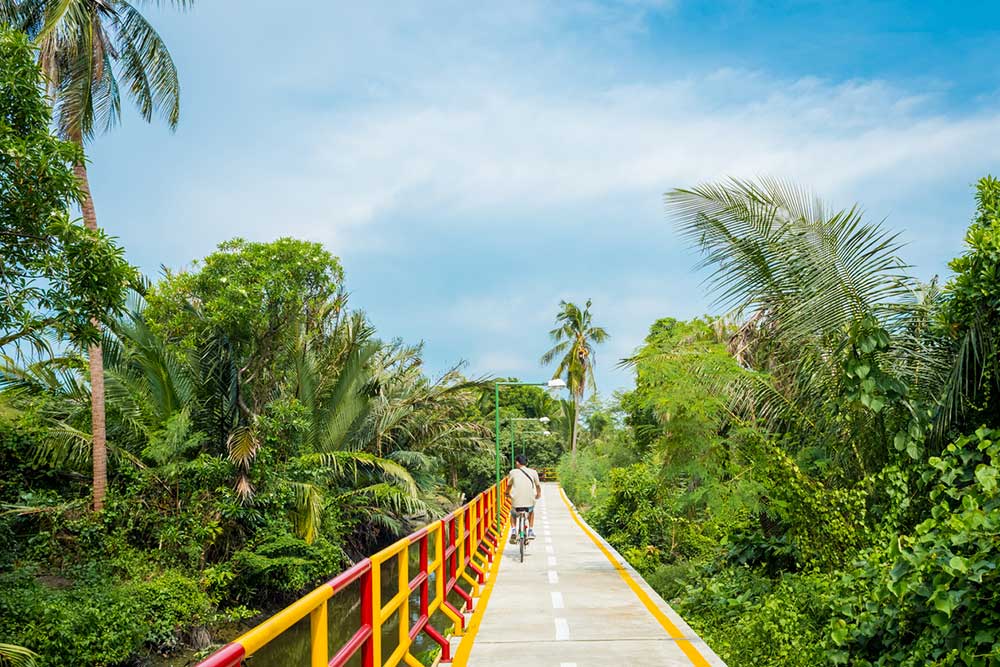 Cycle to see Fireflies at Twilight  in Bangkok
Watching clouds of fireflies light up as the sun dips below the horizon is an experience you'll never forget. You'll start your afternoon with a relaxed bike ride through Bangkok's quieter streets, exploring all the treasures the city has to offer.
Once your legs start to ache, you'll park your bike and wander towards a gorgeous early dinner in a lovely restaurant on the banks of the Chao Phraya River.
Once you've eaten a meal of traditional Thai food, you'll board a boat and cruise peacefully along, watching the picturesque views go by. Then, as the light dims, the fireflies will start to appear, and your magical experience will begin.
The Khuean Park and Botanical Gardens are also ideal places to cycle to and watch the sunset and the fireflies put on their show. Climb the bird watch tower in the park's centre for a breathtaking view.
>> Book your Bangkok Bike Tour to see the Fireflies
Take a Bangkok Nightlife Tour on Motorbike
Bangkok is a vibrant city at all times of the day and night. However, exploring the nightlife can feel intimidating. It would be a shame to miss out, though; there's so much to see and experience once the sun has set.
Booking a motorbike tour is a fun way to see Bangkok at night. You'll visit Asiatique, the open-air shopping centre on the River Front, Rattanakosin (Old Town), the home of the breath-taking Grand Palace, the iconic temple of Wat Pho and one of the most famous streets in the world, the Khao San Road.
No night out in Bangkok is complete without tasting some fantastic street food available at the hundreds of stalls in China Town. Then, once your belly is full, you can head to Sanam Luang Park to watch the locals play Speak Takraw, a kick volleyball game.
>> Book your Bangkok Nightlife MotorBike Tour
Discover Bangkok by E-scooter
The E-scooter is a fun and eco-friendly way to discover the wonders that Bangkok has to offer. Choose from personalised itineraries and commentaries or join a small group of fellow sightseers.
Before you set off, you'll be given a full briefing, so you're safe to zip up and down the maze of alleys and footpaths this brilliant city offers. The e-scooter will allow you to avoid the sweaty confines of a tour bus without needing the energy required for riding a bike.
Highlights of your tour will include the sights, sounds and smells of the markets, the serenity of the Princess Mother Memorial Park and the magnificent panorama of the temple of Wat Arun with its river backdrop.
Once you've built up an appetite, you'll head to China Town to tuck into the array of street food available. This is also a great spot to pick up gifts and souvenirs.
Tell your guide if you want to check out the off-the-beaten-path places. They may take you to the Haroon Mosque, which is welcoming and serves mouth-watering roti, to take in the fantastic street art in Talad Noi or to Wat Chakrawatrachawat Woramahawihan. This temple used to be a haven for the crocodiles killed by the river traders.
>> Book your Bangkok E-Scooter Tour
Cycling near Damnoen Saduak Floating Market
The Damnoen Saduak Floating Market is 100km southwest of Bangkok, and it is well worth the effort to visit. Tours will take you in a mini-van or car, depending on whether you've chosen a bespoke or a group tour.
Once in Damnoen Saduak, you'll hop on a long-tail boat, the vessel of choice for the Thai people, as they are cheap to run and easy to maintain. Then, you'll motor through the vast network of canals stopping at villages, beautiful temples and a coconut plantation.
After an enthralling time on the water, you'll be given a sturdy bamboo bicycle, and a cycle tour through the countryside will round off your adventure. The roads you ride on will be quiet, and you'll ride past fields of grapes, pomelo and lychees.
Your tour will also take you past Wat Bang Kung, a 500-year-old chapel that has been overwhelmed by the roots of a Banyan Tree called Bot Prok Po.
>> Book your Damnoen Saduak Full-Day Bicycle Tour from Bangkok
HOW TO PLAN THE BEST BANGKOK TRIP
Handy links for your Bangkok trip
Disclaimer: Our article contains affiliate links. If you make a purchase after clicking one of these links, we earn a small commission at no extra cost to you. It helps us to keep bringing you awesome content, trips, and partnerships!