The coastline and islands of the Gulf of Thailand and the Andaman Sea are studded with pearl-like curves of sand and hidden coves, so it was almost impossible to agree on the most beautiful beaches in Thailand. However, after much debate and discussion, we've picked our favourites. So, if you're a sunbather, swimmer or scuba diver and love the sound of the sea and the sand between your toes, here are the best beaches in Thailand.
Maya Bay – Koh Phi Phi
Maya Bay is a stunning beach on the tiny island of Koh Phi Phi Leh. The soft ivory sand and turquoise waters are surrounded by giant limestone cliffs and bright green tree-covered rock formations. It is undeniably beautiful, but because of this and its fame as the location for the Leonardo Di Caprio film 'The Beach,' it can be anything but serene. Our solution to the crowds? Go as early as you can.
The only way to travel to Koh Phi Phi Leh is by boat. Unfortunately, though, it's impossible to access Maya Beach from the sea during low tide, so you must walk through the jungle and over rocks from nearby Loh Samah Bay.
There are plenty of organised tours to Maya Bay available. However, it's much more fun to find a local with a longtail boat who is willing to take you as soon as dawn breaks. As a result, you'll see the fabulous colours of a Thai sunrise, and your experience on the beach will be much more peaceful.
The journey over the ocean takes about 30-40 minutes from Koh Phi Phi and costs approximately £20-£30. Once your toes sink into the buttery sand, you can soak up the astounding scenery, explore the caves at the bottom of the towering mountains of rock, snorkel over the coral reed at Pi Ley and re-fuel at the small café.
Stay in this paradise for the whole day and arrange to get picked up at dusk. Then, as you leave the cove in semi-darkness, you might be lucky enough to see the bio-luminescent plankton start to light up the water, an unforgettable sight!
>> Where to stay near Maya Bay | Explore Phi Phi Tours with Viator or GetYourGuide
Ao Manao – Krabi Province
Ao Manao (Lime Bay) is three miles from Prachuap Town and, even though it is part of a Royal Thai Air Force base, is one of the most beautiful beaches in Thailand.
As you approach, the vast semi-circular curve of the beach stretches into the distance, and the unique shapes of the hills in the north, Lom Muak, and south, Klongwahn Hill, add even more drama. These rock towers also protect the bay from bad weather.
If you're a snorkeller or scuba diver, you'll love Ao Manoa, as there are several islands with caves and colourful marine life to explore just off the shore. The shallow, sapphire water, fine ivory sand and gentle currents make it the perfect beach for children.
You need to register with the military as you enter and leave the area, but this is simple to do, and the personnel welcomes visitors. The beach has historical significance as well as beauty as it was the scene of a WW2 battle between Thai and Japanese forces.
Ao Manao is a favourite of local Thai people as it is one of the best beaches in the area for swimming, a peaceful atmosphere and general cleanliness. There are a few souvenir stalls and cafes, plus a smattering of beach beds and parasols, and on the shore, you can go on a quad bike ride or visit the small zoo.
Where to stay near Nai Harn Beach | Explore Krabi Tours with Viator or GetYourGuide
Nai Harn Beach – Phuket
Nai Harn Beach on Phuket is a crescent of pale silver sand with rocky fringes and lapped by iridescent green water. You'll find Nai Harn and its smaller sister beach Ao Sane on the island's south coast.
This is a gorgeous area to visit as it has a village feel, super-friendly locals and a few pleasant cafes, food stalls and souvenir shops. The snorkelling conditions off the shore are fantastic, and there's a lovely monastery on the beachfront, which adds to the serene atmosphere.
There's a lagoon beyond the beach, slightly busier with beach bungalow resorts and bars, but it still feels relaxed. If you're after a touch of luxury for the night, the Royal Phuket Yacht Club is at the north end of the beach.
Nai Harn is a great beach for swimming during the dry months, but the swells and currents can be dangerous for swimmers during the rainy season. However, this makes it a favourite spot for surfers visiting Phuket.
Where to stay near Nai Harn Beach | Explore Phuket Tours with Viator or GetYourGuide
Pattaya Beach
Pattaya Beach is a lovely location if you prefer your beach visit to have a more energetic vibe. It's 3km long and has a shady road at the edge that you can walk along, people-watch, have a bite to eat and enjoy a drink in one of the busy bars.
Most of the beach is also busy; there are many opportunities to try out various exhilarating water sports and buy snacks or souvenirs from wandering vendors. Thanks to the length of the beach, despite the crowds, there is still plenty of room to swim and chill out. The north of Pattaya Beach is best if you're craving peace and quiet.
At night Pattaya Beach is vibrant, the coloured lights from the restaurants, clubs and hotels reflect prettily on the water, and you can enjoy the sun going down with a delicious cocktail and your toes in the sand.
Where to stay in Pattaya | Explore Pattaya Tours with Viator or GetYourGuide
Sairee Beach – Koh Tao
Sairee Beach is on the west coast of Koh Tao and, at 1.8km long, is the longest beach on the
island. It's also the most popular, but it shouldn't ever feel crowded thanks to its size. The area behind the beach is packed with restaurants serving delicious seafood, buzzing bars and night markets selling crafts.
Sairee Beach has gently sloping ivory sands and green shallows that suddenly deepen and turn a deep blue. It's gorgeous, and a day sunbathing, playing beach volleyball and snorkelling will be both fun and relaxing. It's also the optimum spot on the island to watch a sunset.
If you're a diver, Sairee Beach is a great base, as there are plenty of dive centres in the area. Families will love it too, as the water is shallow for a good 100 metres, colourful fish will swim around their legs, and there's plenty to keep them entertained, occupied and fuelled.
Where to stay near Sairee Beach | Explore Koh Tao Tours with Viator or GetYourGuide
Bophut Beach – Koh Samui
Bophut Beach is a long and narrow stretch of pristine white sand on the Northern coast of Koh Samui. If you're in popular Chaweng, it's just a 30-minute drive away. Renting a scooter is a great way to get there and will open up the rest of the island to you for exploration.
The Fisherman's Village behind the waterfront is what makes Bophut Beach extra-special. It's a fascinating place with atmospheric streets, excellent souvenir shops and ample opportunities to experience authentic Thai culture.
An absolute must-see when visiting the Bophut Beach area is the night market which happens every Monday and Friday. There's an irresistible buzz in the air on those nights as people from all over the island flock into shops, eat yummy foods, catch up with friends and enjoy a night out.
Bophut Beach has lots for a traveller to discover, but it's also a beautiful place to chill out, soak up the sun and swim. If you're feeling spiritual, the golden statues and ornate red roofs of Wat Phra Yai in Thai can be found at the end of the beach.
Where to stay in Bophut | Explore Koh Samui Tours with Viator or GetYourGuide
Donald Duck Bay – Koh Similan
Donald Duck Bay is on the north coast of the island of Koh Similan, and its quirky name comes from the rock formations on the east side of the bay. They are called Sail Rocks but look like the iconic cartoon character.
The bay is relatively small; it has a smooth curve of white sand with a lush jungle backdrop. The turquoise water is a hub for scuba diving and snorkelling. The shallows near the beach are perfect for training, and the deep water is teaming with a huge variety of marine life.
Many live-aboard dive boats will moor in the sheltered bay, and night-time dives are popular because there's the chance you'll see a rare green turtle. The sunsets are spectacular from Donald Duck Beach, and if you want a view of the stunning evening colours over neighbouring islands, the rocks are easy to scramble up. This truly makes it one of the most beautiful beaches in Thailand.
Where to stay near Similian Islands | Explore Koh Lanta Tours with Viator or GetYourGuide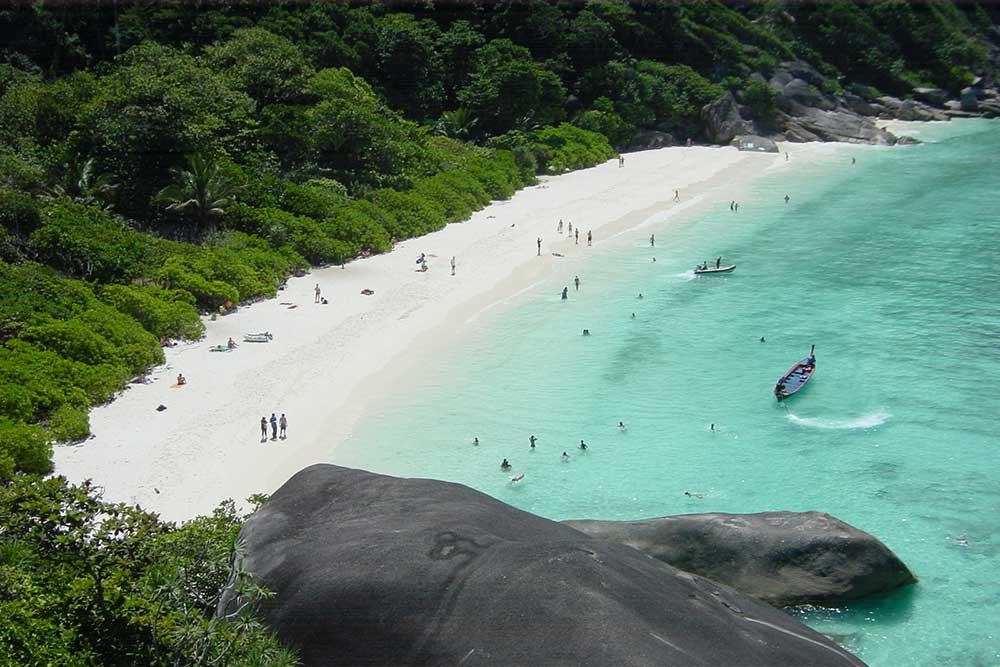 Long Beach – Koh Lanta
Lanta, an island just off the coast of Krabi, is home to some of Thailand's most beautiful beaches, and Long Beach is the biggest at 5km. It is also the most popular as it's easy to get to, being just a short drive from the busy Saladan village and the ferry terminal.
The fine golden sand is backed by a dense forest of dark green pine trees, and the cobalt blue sea gets deep quickly, so it is ideal for swimming and snorkelling.
Long Beach is a favourite destination for travellers, but because the sands are stretched across three miles, and many of the bars and restaurants are tucked into the cool of the trees, it can still feel wonderfully secluded.
Koh Lanta is an island known for stunning sunsets, and the charming bars and cafes of Long Beach are perfect places to see it, thanks to the uninterrupted horizon. You'll be able to enjoy tasty traditional Thai food and drink cold beers as the sky changes colour before your eyes.
Where to stay in Long Beach | Explore Koh Lanta Tours with Viator or GetYourGuide
HOW TO PLAN THE BEST THAILAND TRIP
Handy links for your Thailand trip
Disclaimer: Our article contains affiliate links. If you make a purchase after clicking one of these links, we earn a small commission at no extra cost to you. It helps us to keep bringing you awesome content, trips, and partnerships!