The temples in Chiang Mai are fascinating to the mind and magnificent to the eye, and exploring them will whet your appetite for the wonders of this stunning part of Thailand. We love to provide off-the-beaten-path travel ideas, so here are more unique things to do in Chiang Mai. 
UNIQUE THINGS TO DO IN CHIANG MAI
Off-road ATV rides in the jungle
Climbing the 'sticky' waterfall at Bua Thong is an off-the-beaten-path adventure you'll remember forever. Your exhilarating day out will have a stunning mountain backdrop, feature dramatic river cliffs, and have a soundtrack of the tumultuous white water cascading into the pale blue water.
Bua Thong is a 90-minute drive from the centre of Chang Mai into the lush hills of the Sri Lanna National Forest. You'll then hop out at the dam, cross the suspension bridge and enjoy a short hike to the waterfalls, which will flow all year as a natural spring rather than rainwater feeds them.
Thailand has many beautiful waterfalls, but you won't find the beautiful water of Bua Thong in many guidebooks. This means it's one of the best non-touristy things to do in Chiang Mai.
The geology of the limestone rock that backs the falls is unique; it feels like you have a hard but slightly squidgy sponge under your feet, and as you clamber up, you will stick to the rough rock. The waterfall is fun to climb, but your feet and calves muscles will ache in the morning.
One of the best ways to explore the sticky waterfalls is by booking a tour in Chiang Mai or hiring a local guide. This way, you'll find the best photo opportunities and picnic spots, be guided toward the safest climbing spots, and learn about the area from an expert.
Explore Chiang Dao Cave
If you're seeking unique things to do in Chiang Mai, heading underground to explore the Chiang Dao Cave is a great idea. In the dim light underneath the Doi Chiang Dao Mountain range, you'll discover the jaw-dropping network of stalagmites, stalactites, and sparkling crystal formations that lay inside five huge limestone caverns.
Many tourists will head to Chiang Dao to visit the famous Elephant Training Centre, and the cave makes an exceptional addition to a day with these peaceful giants. It is a place of ethereal beauty and religious pilgrimage to the five Buddha statues. You'll also be walking through 10,000-plus years old caves that have been an essential part of Thai folklore, myths, and legends for over a thousand years.
To understand the enthralling stories connected to the caves, hiring a guide who can tell you about hermits, soldiers and ghosts are essential. However, make sure you also take a moment to absorb the unique atmosphere of Wat Tham Chiang Dao, the natural temple carved into the entrance to the cave.
Visiting Chiang Dao Cave won't require special caving equipment or advanced skills. The first two caves are easy to explore independently as they are well-lit; make sure you bring a torch and wear shoes with a good grip as the rock formations drip water constantly, and the limestone floor can be slippy.
Be Spiritual with a Monk Chat
Thailand is an intensely spiritual place, and understanding the role religion plays in the lives of the Thai people is one of the best ways to understand the incredible country you're visiting.
Monk Chat is a brilliant scheme through which you can sit and talk with a young monk and their teacher at various places around Chiang Mai. It's informal and fun, and it's a fantastic opportunity to ask questions, listen to their stories and help them to improve their English.
Most monks can be shy initially, but most are curious and chatty after the first few moments of awkwardness. It's interesting to learn about the different parts of Thailand they grew up in and what they plan to do with their religious education.
Monk Chat happens in many of the Buddhist temples around Chiang Mai, but the main ones are Wat Chedi Luang, Wat Doi Suthap, Wat Sri Suphan, and Wat Suan Dok. Monks are available at various times and days, so check with each temple. They may also offer meditation lessons and short courses if you're interested.
Jungle Trekking in Huay Nam Dang National Park
The Huai Nam Dang National Park lies a 90-minute drive away from Chiang Mai. It's a spectacular landscape that is home to Doi Chang mountain and is the source of the Pai, Ping and Taeng rivers.
Visiting Huay Nam Dang will take you well off the beaten path as there are very few paved roads, and overnights will be either camping or staying in homes in tribal villages that have remained unchanged for many years.
An organised trek through the dense jungle will take two to three days and include bamboo rafting in the Taeng River. There are shorter options that are suitable for families, and there are journeys that include zip lines and white water rafting for adventure seekers. Whatever trek you choose, remember that you're in the mountains, so a good fitness level is required.
The National Park has several remote waterfalls, such as Huai Nam Dang Waterfall, to which your guide may organise an expedition. The Pong Duat Hot Spring is also a highlight; many treks will use it as a starting point.
Once you're up high amongst the peaks, the views are extraordinary, and in the early morning, when you crawl out of your tent, you might be lucky enough to experience a beautiful sea of mist engulfing the trees below you.
Take a Tuk Tuk Adventure in Chiang Mai
The Tuk Tuk is the ideal way to journey around Thailand. Plenty of organized tours are available in the Chiang Mai area, so why not be unique and choose one with this iconic vehicle as the primary mode of travel?
Tuk Tuk tours can range from 5-day exhilarating trips to 11 days for an epic adventure. You'll climb high up into the mountains of Northern Thailand, visit remote jungle temples, make friends with the hill tribes, meet elephants and enjoy time floating down the river on a bamboo raft.
These wonderful machines are modified to tackle steep mountain paths.
Plus, their friendly, knowledgeable drivers and your guide will ensure you see parts of Thailand that other tourists struggle to reach, making a Tuk Tuk tour one of the most non-touristy things to do in Chiang Mai.
Stay with Karen Hill Tribe
The Karen Hill Tribe is the biggest minority group in Thailand; around a million individuals live in the area around the Thai-Myanmar border. The Karen people call themselves 'Pakanyor,' and they are also called 'Kayin.'
There are four main Karen tribes, Sgaw, Po (Red Karen), Pa-O and Kayaj, and each has different customs, languages, and costumes. A sub-group of the Po is known as the Karen Long Neck people, as they extend the length of their necks with stacked brass coils. They originated in Burma but fled to Thailand to escape the conflict.
Karen tribes tend to live in remote and mountainous areas of Thailand. They have a staunch belief in the spirits who live in nature, especially those who control the land and water. The Karen is also the only tribe left in Thailand who own and work with elephants as they have a special understanding of and relationship with these amazing creatures.
Many tour companies run cultural immersion experiences where small groups visit Karen villages to learn about and experience their way of life. Travellers can stay in the homes of villagers, interact with their elephants and see the forest through the eyes of the people who know it best.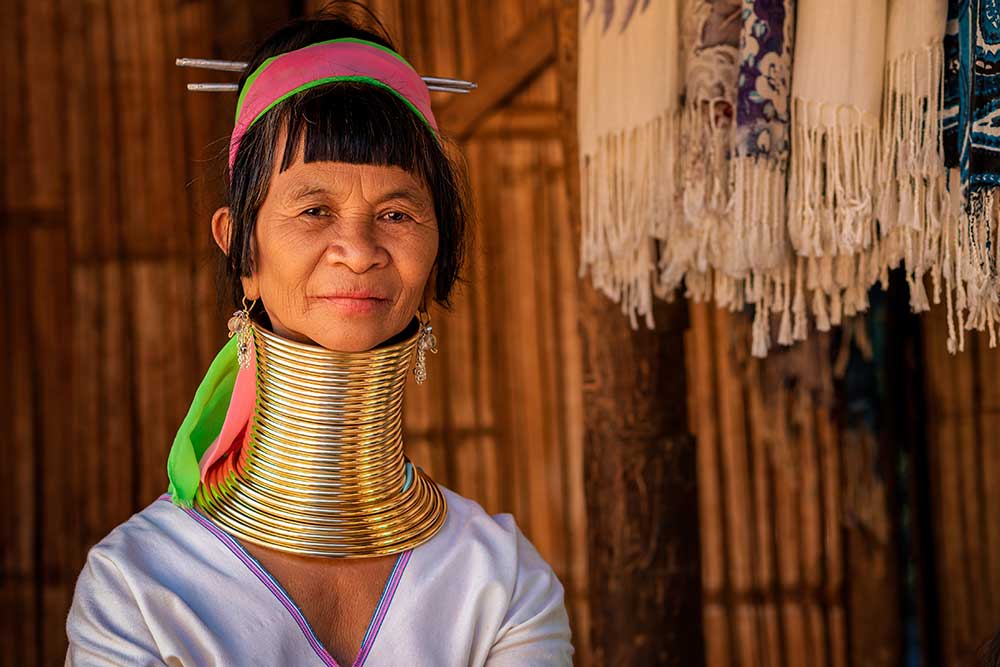 Discover the Mae Hong Son Loop by motorbike
The Mae Hong Son Loop is a road that will take you past the 'must-see' parts of Thailand's remote northern province, and riding it on a motorbike is an epic way to explore the region. Depending on how much you want to see and how deeply you wish to explore, a tour can take 3 to 10 days. Try this motorbike tour for 3 days to get the highlights.
Your journey will take you past the awe-inspiring waterfalls of Pai, through the Chinese-style town of Baan Rak Thai and to the Pha Chor Canyon, an extraordinarily beautiful place you'll never forget.
Whatever you're seeking, the mind-soothing tranquillity of Buddhist temples such as Wat Chom Thang and fascinating conversations with tribespeople or the physical boost of hot springs and hiking to the top of the highest mountain in Thailand; the Mae Hong Song Loop has wonder around every corner.
HOW TO PLAN THE BEST CHIANG MAI TRIP
Plan ahead for Chiang Mai
Disclaimer: Our article contains affiliate links. If you make a purchase after clicking one of these links, we earn a small commission at no extra cost to you. It helps us to keep bringing you awesome content, trips, and partnerships!