They were lost to dense jungle for many generations but at the end of the 1800's the temples in Siem Reap were rediscovered and are now a UNESCO World Heritage site. Cambodia is deeply proud of this incredible place and it has become one of the country's most important national symbols.
Angkor Wat was once the home of the ancient Khmer people. They ruled a huge empire across South East between 802 and 1431 and their vast city is estimated to have been the size of Paris.
The mystery surrounding why nature was permitted to take over a once sprawling metropolis makes these ornate temples even more fascinating. Was it the culmination of a seven-month siege by a hostile neighbour? Was it a catastrophic flood? Or did changes from Hinduism to Buddhism across the area act as the catalyst?
Whatever the reason, nearly two million visitors explore Siem Reap every year and our guide will help you to make the most of your own Indiana Jones-style adventure.
EXPLORE THE BEST TEMPLES IN SIEM REAP
Angkor Wat Temple 
Angkor Wat is the most famous of the temples and is a beautifully intricate gateway into the ancient spiritual world. The site of the five jaw-dropping, ear of corn like spires is iconic.
Sensual, remarkably well-preserved female deities are the main feature of Angkor Wat. Thousands of these imposing and emotive statues and carvings make this temple a captivating place to get lost in.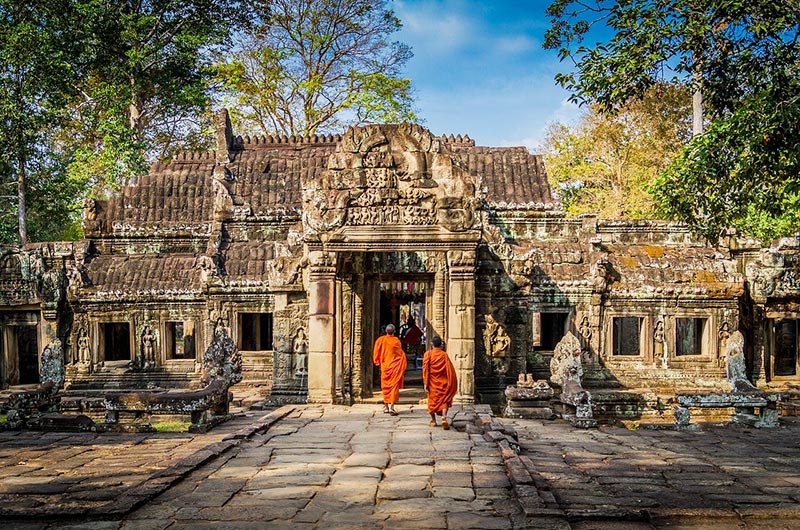 > RELATED ARTICLE: VISIT BOKOR NATIONAL PARK
Angkor Thom Temple
Angkor Thom is a quick Tuk Tuk jaunt away from the Angkor Wat complex. This 12th-century walled city is surrounded by an atmospheric moat and is accessible only by a decaying causeway. Demons and deities look down on visitors with wary faces or beatific smiles as they pass into this archaeological paradise. Highlights include the wondrous temple to the God Vishnu and a terrifying nine-headed serpent who guards the causeway.
> RELATED ARTICLE: VISIT 5 BEST TEMPLES IN CHIANG MAI
Bayon Temple
Bayon is a temple full of sculpted faces and it's an eerie feeling to be watched by the ancients as you tread amongst the stunning stone carvings and spiritual banyan trees.  
Watch your step here, Bayon is a labyrinth of endless hallways, towering pillars and imposing towers that is a feast for enraptured eyes.
Ta Prohm Temple
When you enter Ta Prohm you have stepped onto the set of the Tomb Raider film. But this temple is so much more than a piece of Hollywood history.
This is a cooling, divine place. It is best enjoyed at dusk when the sunlight filters through the enormous trees that have infested crumbling walls. The jungle is desperately trying to reclaim these sacred buildings. Trees with incredible, statuesque shapes tower over them and thick, snake-like vines curl into every archaic nook.
Ta Som Temple
The Buddhist temple, Ta Som, is renowned for being the home of lavish and arresting stone edifices. The Buddhist hero Lokeshwara and female goddesses are the main characters in the story.
Ta Som is one of the prettiest parts of Angkor Wat. Stepping through the main gate that is being slowly strangled by a monstrous fig tree is akin to entering a fairy tale.
> RELATED ARTICLE: 6 BREATH-TAKING TEMPLES IN BAGAN
Tips for visiting temples in Siem Reap
Getting around Siem Reap
Tuk Tuk's are epic. Some of my favourite travel memories involve this bonkers mode of travel. The temples of Angkor Wat and beyond can easily be navigated by Tuk Tuk and, depending on how long your hire it for and how many are in your party, it will cost you $10 each.
Bike hire is also becoming more popular, but they are best used in the cooler, less squelchy underfoot months, and by people who have an enormous amount of energy!
Choose your Siem Reap route
The first decision a traveller to Siem Reap needs to make is which route to take. There are two, the small and big loops, and your choice is likely to depend on how much time you have.
Personally, I'd pick the Big Loop which features six extra temples. You'll have the opportunity to appreciate the peace and serenity of the quieter outer temples and still be back in Siem Reap by early afternoon.
Where to watch the sunrise
Arriving just before the sunrise at the East Gate will hopefully provide the bleary eyes traveller with a moment of beauty to treasure forever. It's also the ideal way to ensure a peaceful wander around the main temples before everyone else arrives.
Siem Reap ticket price
You will pay $20 for a full day of exploration around the temples in Siem Reap.
Transport around the site will be extra as will a hired guide.
How to dress for Siem Reap
The temples in this incredible part of Cambodia have enormous religious significance and it is hugely important that visitors respect that by wearing appropriate clothing such as below the knee bottoms and covered shoulders.
Best time to visit Siem Reap
The best time to visit Siam Reap would be in the dry season from November to the beginning of April. This is when the weather is the kindest and the ground is less swamp-like.
PLANNING YOUR PERFECT SIEMP REAP TRIP
Plan ahead for your Siem Reap trip
Book a tour of Siem Reap
Disclaimer: Our article contains affiliate links. If you make a purchase after clicking one of these links, we earn a small commission at no extra cost to you. It helps us to keep bringing you awesome content, trips, and partnerships!